Our Facilities and Equipment
High quality certified materials from approved & globally recognised steel mills.
Ready stocks of material for the shortest lead times.
Main materials processed:
• Low and medium Carbon Steel
• Stainless Steel A2, A4, F1 (Stainless 430)
• Aluminum
• Brass, Copper
Material preparation is all done in-house.
• Wire pickling
• Descaling
• Phosphating
• Treatment and lubrication
• Coil annealing
• Wire drawing and straightening
High flexibility for small, medium and mass production volumes. We continue to grow by increasing our capacity through continuous expansion and process improvements,
providing more customer benefits.
• Daily capacity up to 36.000.000 parts
• Fully integrated ERP system for process
control and on-time deliveries
100 Heading machines equipped with auto-check software.
80 Roll threading machines.
Diameter range : M2.0 – M10.0
Fully automated RoHS compliant electroplating line.
Conveyor tempering furnace for consistent and reliable hydrogen embrittlement stress relief.
Quality assured at our parts finishing laboratory:
• Automated salt spray test chambers
• Plating thickness testers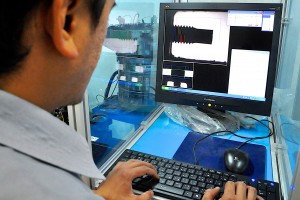 Our qualified and experienced engineers conduct all testing in-house.
• Statistical Process Control (SPC)
• Multiple hardness test methods
• Torque test, head bend test
• Recess depth & wobble gauging
• Dimensional & screw thread gauging
• Profile projectors
• Self-tapping & self-drilling simulators
5,000 sq. m. area in our finished goods warehouse.
Our focus is on providing excellent service and advantages for our
customers.
• Vendor Managed Inventory (VMI)
• Buffer stocks based on forecast
• Stock on hand reports for our customers
• Computerised FIFO (first in, first out)
• On-time deliveries assured